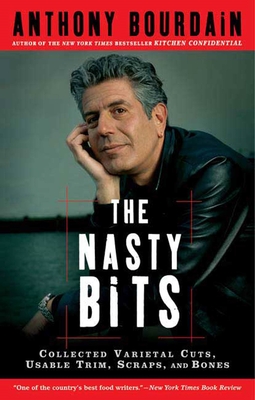 $18.00

Usually Ships in 1-5 Days
Description
---
New York Times Bestseller

The good, the bad, and the ugly, served up Bourdain-style.

Bestselling chef and Parts Unknown host Anthony Bourdain has never been one to pull punches. In The Nasty Bits, he serves up a well-seasoned hellbroth of candid, often outrageous stories from his worldwide misadventures. Whether scrounging for eel in the backstreets of Hanoi, revealing what you didn't want to know about the more unglamorous aspects of making television, calling for the head of raw food activist Woody Harrelson, or confessing to lobster-killing guilt, Bourdain is as entertaining as ever.

Bringing together the best of his previously uncollected nonfiction--and including new, never-before-published material--The Nasty Bits is a rude, funny, brutal and passionate stew for fans and the uninitiated alike.
About the Author
---
Anthony Bourdain (1956-2018) is the author of the bestselling Kitchen Confidential, the Urban Historical Typhoid Mary, and A Cook's Tour, which was turned into a successful series by the same name for the Food Network. His novels include The Bobby Gold Stories, Bone in the Throat and Gone Bamboo.
Praise For…
---
"High- and low-lights from the culinary world by the delightfully jaded chef." —People

"His writing is at its most savory in passages about the joys of sharing food with people who love it. His words are not always gentlemanly, but they vividly convey how, say, sitting on the plastic-covered kitchen floor of an Inuit family's house and joining in as they eagerly tear into the raw liver, brain and blubber of a freshly killed seal can be, as Mr. Bourdain says, a moment of rare intimacy, pleasure and indeed beauty." —Wall Street Journal

"Lovable rogue chef and author of Kitchen Confidential describes stomach-roiling feasts in exotic lands and snipes at celebrity chefs in this entertaining tome." —Chicago Tribune

"A vivid and witty writer…[Bourdain's] greatest gift is his ability to convey his passion for professional cooking...In Bourdain's telling this is inspiring, band-of-brothers stuff, a tale of the trenches where ends almost always justify means." —New York Times Book Review

"[An] informed and unvarnished view from the kitchen...[Bourdain's] best writing can make food lovers quiver like raw fish." —Cleveland Plain Dealer