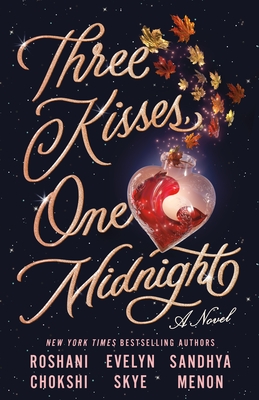 $18.99

Usually Ships in 1-5 Days
Description
---
New York Times bestselling authors Roshani Chokshi, Evelyn Skye, and Sandhya Menon craft a spellbinding novel about discovering the magic of true love on one fateful, magical night in Three Kisses, One Midnight.

The town of Moon Ridge was founded 400 years ago and everyone born and raised there knows the legend of the young woman who perished at the stroke of twelve that very same night, losing the life she was set to embark on with her dearest love. Every century since, one day a year, the Lady of Moon Ridge descends from the stars to walk among the townsfolk, conjuring an aura upon those willing to follow their hearts' desires.

"To summon joy and love in another's soul
For a connection that makes two people whole
For laughter and a smile that one can never miss
Sealed before midnight with a truehearted kiss."

This year at Moon Ridge High, a group of friends known as The Coven will weave art, science, and magic during a masquerade ball unlike any other. Onny, True, and Ash believe everything is in alignment to bring them the affection, acceptance, and healing that can only come from romance—with a little help from Onny's grandmother's love potion.

But nothing is as simple as it first seems. And as midnight approaches, The Coven learn that it will take more than a spell to recognize those who offer their love and to embrace all the magic that follows.
About the Author
---
Roshani Chokshi is the author of commercial and critically acclaimed books for middle grade and young adult readers that draw on world mythology and folklore. Her work has been nominated for the Locus and Nebula awards, and has frequently appeared on Best of The Year lists from Barnes and Noble, Forbes, Buzzfeed and more. Her New York Times bestselling series include The Star-Touched Queen duology, The Gilded Wolves, and Aru Shah and The End of Time, which has been optioned for film by Paramount Pictures.

Sandhya Menon is the New York Times bestselling author of several novels with lots of kissing, girl power, and swoony boys. Her books have been featured in many cool places, including on The Today Show, Cosmopolitan, Teen Vogue, NPR, Seventeen, Entertainment Weekly, and Buzzfeed. Two of her books have won the Colorado Book Award, and her Dimpleverse series was turned into a hit TV show with Netflix India. A full-time dog servant, Sandhya makes her home in the foggy mountains of Colorado. With a glass of wine at her elbow, she also pens adult romances under the name Lily Menon.

Evelyn Skye is the New York Times bestselling author of The Crown's Game and other books. She is an alumna of Stanford University and Harvard Law School, and her novels have been spotlighted by Barnes & Noble, Amazon, Goodreads, Apple Books, and IndieNext, among others. Evelyn was once offered a job by the C.I.A. (she turned it down), and if you challenge her to a pizza-eating contest, she guarantees she'll win. She lives in the San Francisco Bay Area with her husband, Tom, and their daughter. They are forever grateful to Tom's organ donor and the amazing lung transplant team at Stanford Hospital for saving Tom's life.
Praise For…
---
"An atmospheric rom-com about the magic of love...Hand this to anyone who loves tarot, astrology, and witchy things...and fans of Ashley Elston and Jenny Han." - School Library Journal, starred review

"The authors imbue their characters with genuineness that makes the narration engaging and the romances a delight. The three intertwined stories, each following one member of the trio, play with beloved romantic tropes... Charmingly fun." - Kirkus

"Brimming with autumnal coziness and fanciful frolics." - Publishers Weekly