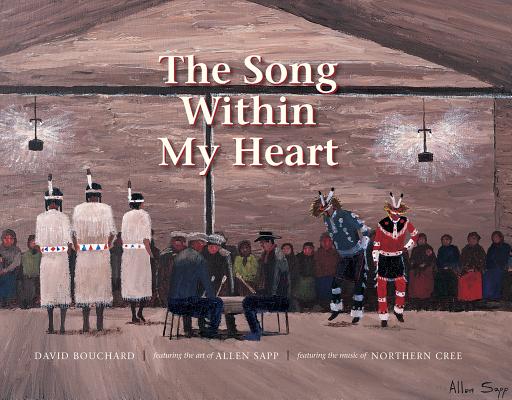 $16.95
Email or call for price
Description
---
Listen to the beating drum It tells a hundred stories Of our people, of our homeland Some of birds and beasts and sweet grass. Close your eyes and listen You might come to hear a story That no one hears but you alone A story of your very own.
Renowned Cree painter Allen Sapp's inspired and stunning artwork beautifully complements this sweet story of a young First Nations boy preparing for his first pow-wow. The young boy's Nokum -- his beloved grandmother -- guides him through the exciting day and watches over him as events unfold. David Bouchard's rhythmic and informative text is based on remembrances from Allen Sapp's childhood.
Winner of Canada's Governor General's Literary Award, The Song Within My Heart is a beautifully crafted picture book that reflects the wonders of life on a reserve, the importance of the pow-wow, and ultimately, the love between grandmother and grandson.
"Sapp's illustrations, rendered in thickly textured oil paint, emphasize the bond and love that the boy feels for his grandmother... A strong offering about powwows, familial love, and finding understanding from within. -- School Library Journal
"A heartfelt intergenerational story about knowing and preserving heritage and love between elders and young ones... Bouchard's rhythmic text successfully conveys an emotive and sensory approach to the relationship between the two, enriching the story and echoing the hand-lettered onomatopoeic syllables that represent chanting and drumbeats. Sapp's profound paintings bring sincere and reassuring images that support and enhance the tale. A stunning picture book that celebrates life, family relations, and determination to preserve traditions and heritage." -- Kirkus (starred review)
About the Author
---
David Bouchard's books have won several prestigious awards, among them the Canadian Aboriginal Book of the Year in 2007 for Nokum Is My Teacher. He is the author of many books for young readers including An Aboriginal Carol, Rainbow Crow and The First Flute. David lives in British Columbia. Allen Sapp was an Officer of the Order of Canada and a member of the Canadian Academy of Arts. A Cree elder, he was raised by his grandmother on the Red Pheasant reserve in Saskatchewan. The memory of this tender relationship spawned in Sapp some of his finest and most sensitive works, bringing to his canvas a sense of affection and love. He died in 2015.