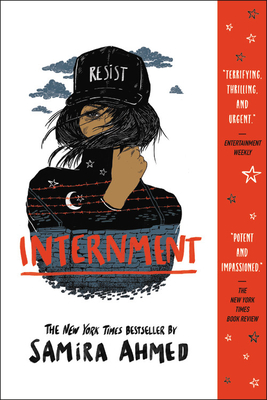 $11.99

Usually Ships in 1-5 Days
Spring 2019 Kids Indie Next List
---
"The Hate U Give meets The Handmaid's Tale in this slightly futuristic and dystopian version of America in which Muslim Americans are placed in internment camps. Ahmed's book starts out with Layla describing how the real-life statements and policies of Trump's America led from our current world to the horror of the book. Internment shines in showing not only Layla and her friends' resistance, but also the life and humor the characters exude, even during their darkest days. A revelation that deserves as much recognition and praise as Angie Thomas' debut work."
— Christine Stamper, Bookbug, Kalamazoo, MI
Description
---
An instant New York Times bestseller!
"Internment sets itself apart...terrifying, thrilling and urgent."--Entertainment Weekly

Rebellions are built on hope.
Set in a horrifying near-future United States, seventeen-year-old Layla Amin and her parents are forced into an internment camp for Muslim American citizens.
With the help of newly made friends also trapped within the internment camp, her boyfriend on the outside, and an unexpected alliance, Layla begins a journey to fight for freedom, leading a revolution against the camp's Director and his guards.
Heart-racing and emotional, Internment challenges readers to fight complicit silence that exists in our society today.
About the Author
---
Samira Ahmed is the New York Times bestselling author of Love, Hate, & Other Filters and Internment. She was born in Bombay, India, and has lived in New York, Chicago, and Kauai, where she spent a year searching for the perfect mango. She currently resides in the Midwest. Find her online at samiraahmed.com and on Twitter and Instagram @sam_aye_ahm.
Praise For…
---
An instant New York Times bestsellerAn Amazon Best Book of the Month for March 2019


*Taking on Islamophobia and racism in a Trump-like America, Ahmed's magnetic, gripping narrative written in a deeply humane and authentic tone, is attentive to the richness and complexity of the social ills at the heart of the book.—Kirkus, starred review

*"...a poignant, necessary story that paints a very real, very frank picture of hatred and ignorance, while also giving readers and marginalized individuals hope."—Booklist, starred review

*"An unsettling and important book for our times."—Publishers Weekly, starred review

*"By the end of the first two pages of this title the reader will be breathless with the anticipation and excitement of what's to come."—School Library Connection, starred review

*"...Sensitive and stirring. For all collections."—School Library Journal, starred review

"Internment sets itself apart...terrifying, thrilling and urgent."—Entertainment Weekly

"A riveting and cautionary tale. Internment urges us to speak up and speak out, to ask questions and demand answers, and when those answers prove unsatisfactory, to resist."—p.p1 {margin: 0.0px 0.0px 0.0px 0.0px; font: 13.0px Times}span.s1 {font-kerning: none; background-color: #ffffff}Stacey Lee, award-winning author of Outrun the Moon

"Internment is a visceral, essential book, both horrifying and hopeful. Ahmed deserves a spot on every book shelf in America."—p.p1 {margin: 0.0px 0.0px 0.0px 0.0px; font: 12.0px Times}span.s1 {font-kerning: none}Kiersten White, New York Times Bestselling author of And I Darken and The Dark Descent of Elizabeth Frankenstein

"A testament to what girls are capable of when they are overlooked, Internment is a masterwork of dignity and grit."—E.K. Johnston, #1 New York Times bestselling author of Exit, Pursued by a Bear

"Internment is a scathing indictment of our current political times. Ahmed has gifted us Layla, a courageous young revolutionary who fights against all boundaries of hate and ignorance. A must read for activists who continue to push back against the big What-Ifs."—National Book Award finalist Ibi Zoboi, author of American Street and Pride

"A powerful and poignant exploration of a nightmare made real. It's a testament to Ahmed's writing then, that the heart of the story is one of hope. Read INTERNMENT. Raise a fist."—David Arnold, New York Times bestselling author of Moquitoland and Kids of Appetite

"Terrifying, inspiring, heart-pounding, and incredibly timely. With an ultimately hopeful voice, Samira Ahmed shows how one person and small acts of bravery can spark a flame of resistance and inspire others to bring change."—Lauren Nopenz Fairley, Curious Iguana, Frederick, MD

"Internment builds a great case for empathy on all sides and for fighting history repeating itself."—Sami Thomason, Square Books, Oxford, MS

"Thank you to Samira Ahmed for giving us Layla, the Strong and Independent Female Character that we are always promised, but never actually get."—Emily Knosher, Read It Again Bookstore, Monticello, NY

"A riveting, ferocious read that will keep you up at night, a story about complicity and cowardice, strength, vulnerability, and hope."—Eugenia Vela, BookPeople, Austin, TX

"A necessary read for all young people, now more than ever."—Cecilia Cackley, East City Bookshop, Washington DC

"It's an action-packed thriller that will make your teen sit up and think."—Family Circle

"[A] raw portrait of a young activist coming into her own....a potent and impassioned reminder of what American nationalism led to in our not-so-distant past."
—New York Times Book Review

"[Gives] understanding [to] the extreme dynamics of race in America from a Muslim perspective."
—PBS News Hour

"Samira Ahmed's Internment is timely in the most harrowing way.... will stay with you long after it ends." -Popsugar.com
—Popsugar.com

"This heart-thumping book horrifies and inspires; Layla's struggle reminds readers to speak up and that only the persistent and resistant can make a change."—Teen Vogue

"Powerful. Emotive...a must-read."—Forbes